Dogs need mental stimulation just as much as they need physical exercise. Taking your dog to events can expose them to new sights, sounds, and smells, which can provide mental stimulation and help prevent boredom.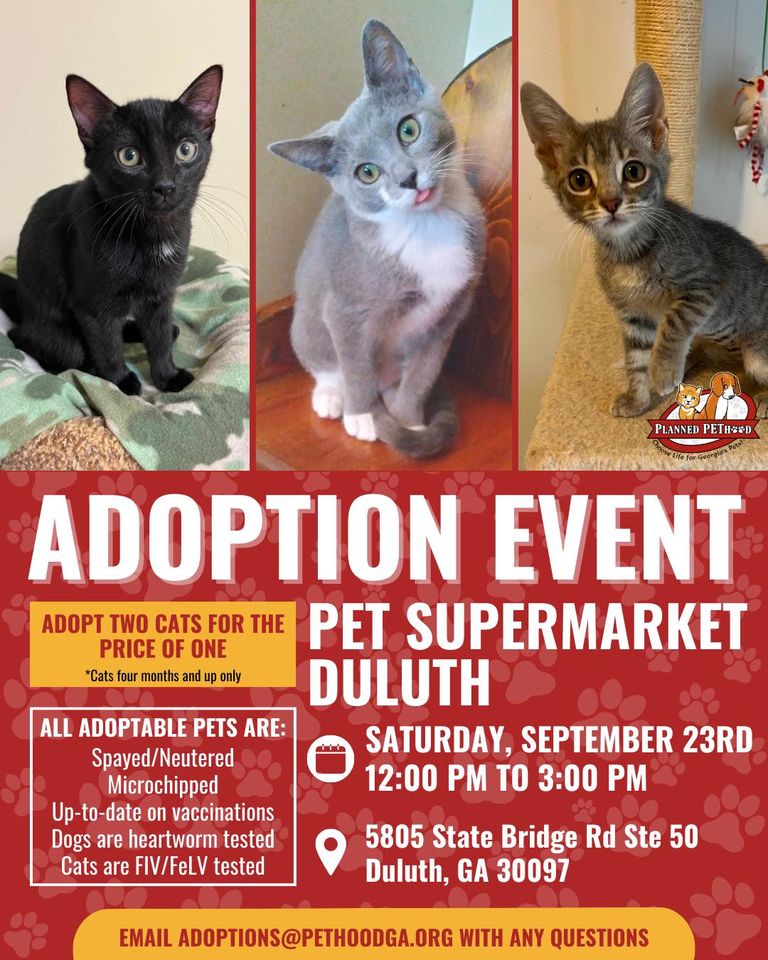 Saturday, Sept 23 (12-3pm): Pet Adoption with Planned PEThood of GA
"Searching for a new kitty?
 How about TWO kitties?
Stop by our adoption event THIS SATURDAY (9/23) at Pet Supermarket Duluth from 12-3 PM. We'll have adorable cats and kittens searching for their forever home.
PLUS, now through the end of September, we have an ADOPTION SPECIAL – adopt two kitties for the price of one! (Kitties 4 months and older only). This adoption promotion also includes adoptions set up through meet-and-greets.
Location: Pet Supermarket Duluth, 5805 State Bridge Rd, Duluth, Ga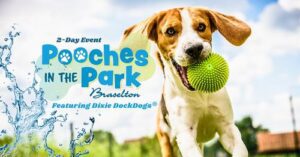 Sept 23-24: Pooches in the Park (Braselton)

"Tails will be wagging at our 8th annual Pooches in the Park on Saturday and Sunday this year! Plan on bringing the entire pack (dogs and kids) to Braselton Park on Harrison St.
*Dixie DockDogs*
Agile pups will splash down near the tennis courts. Featuring two full days (Saturday and Sunday) of scheduled competitions. Watch world class competitive distance-jumping.
*Rover on Over to the Marketplace*
Sniff out some fun new accessories and treats or meet some local pooch services such as vets, groomers and boarders. The marketplace will be organized by Braselton Artisan Festivals, so you know it will be chock full of fabulous vendors!
Want to be a pet-product vendor? Click here.
*Wolf Down Some Treats*
There will be plenty of treats for the pups and your human pack.
*Pup Strut*
A costume parade of fashionable Fidos
When:
SATURDAY, SEPT. 23 at 10 a.m. to 5 p.m.
SUNDAY, SEPT. 24 at 10 a.m. to 5 p.m.
Location: Braselton Park, 126 Harrison St, Braselton, GA
Full Event Schedule ****CLICK HERE ****
Saturday, Sept 30 (12-3pm): Pet Adoption with Planned PEThood of GA
Location: Petco, 3264 Buford Dr, No 110, Buford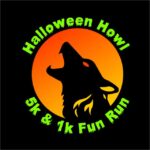 Saturday, October 14 (9am): Halloween Howl

"Help us raise money for the dogs of Canine Pet Rescue! Families of all shapes and sizes are invited to our 6th annual Halloween Howl 5k & 1k Fun Run!
**Our 1K is perfect for small or senior dogs and their owners, our senior community, and kids (of all ages) that want to participate but that want to do a shorter distance*
Costumes for humans AND dogs encouraged.
Cost:
5K Run/Walk $35
1K Run/Walk $30
Virtual Runner $35
REGISTRATION ENDS OCTOBER 7TH
Learn More about Canine Pet Rescue
When: Saturday, October 14 (9:00am)
Where: Little Mulberry Park, 3855 Fence Road, Auburn, GA US 30011
Register Here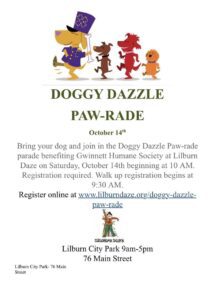 Saturday, October 14, 2023 (10:00am): Doggy Dazzle Paw-rade
"Bring your dog and join in the Doggy Dazzle Paw-rade benefiting Gwinnett Humane Society at Lilburn Daze"
Register your furry friend for $5 entry fee which benefits Gwinnett Humane Society, a non-profit organization in Gwinnett County whose mission is to promote animal welfare, to prevent cruelty to animals, and to reduce pet overpopulation.
Registration is available online, mailed or at 9:30 AM walk-up at Lilburn Daze
When: Saturday, October 14, 2023 at 10:00am (Walk up registration begins at 9:30am)
Where: Lilburn City Park, 76 Main Street, Lilburn, Ga
REGISTER HERE
November 4 (12pm-4pm): Shelter Pets Rock

Location: Animal Welfare & Enforcement, 884 Winder Hwy, Lawrenceville, Ga 30046 (770-339-3200)
Free Admission
For those about to adopt, we salute you! Enjoy activities, entertainment, local vendors and more. Adoptions fees waived on all cool cats and devoted dogs.
see more
*** VENDORS NEEDED! Contact 770.339.3200 for details about showcasing your goods or services

🐾Take your pup to one of Gwinnett's 11 dog parks!

They have separate fenced areas for large and small dogs, shaded areas, agility equipment, benches, and water fountains! Please remember to pick up after your pets. See List Here