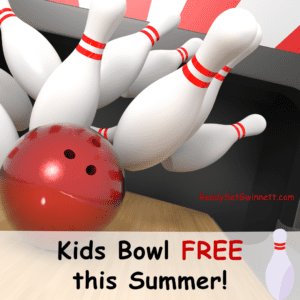 Attention parents and grandparents! The 2023 Kids Bowl Free program is open!
Kids can bowl 2 free games every day at 1500+ locations.
WHAT: Free bowling for kids is such a fun and free summer activity for your family to enjoy this year.
Each child can bowl 2 free games every day, throughout the duration of the program, at a participating bowling center near you.

WHERE: With 1500+ locations offering this freebie for kids, you are sure to be able to find one in your area.

Participating Locations in Gwinnett County, Georgia Area:,
1) Buford: Stars and Strikes (Buford)
2) Lawrenceville / Dacula: Stars and Strikes (Lawrenceville/Dacula)
3) Loganville: Stars and Strikes (Loganville)
4) Stone Mountain: Stars and Strikes (Stone Mountain)
Check to find other participating Bowling Centers near you.
HOW: Once the program has begun, they will send you an email every week that contains a link to your coupons and family passes for that week. (It is not required that you view this email to print your coupons.)
Simply log into your account at any time once the program has started to print your coupons and family passes.
WHAT ABOUT SHOES?:
1) You can Rent Shoes during your visits: Kids $3.99 / Adults $4.99
-OR-
2) You can purchase a kid & adult bowling shoes online – many styles are about $45-55. If you plan to go often, this might make sense for your family?
Click Each Image for Shoe Details:

OPTIONAL FAMILY PASS (2 or 4 person adult passses):
You might also want to take a look at the Family Pass was created to allow adult family members to Join in the fun with your children all summer long. It's a great deal if you do want to bowl with your kids but it's not required.

Restrictions: Each center does have its own age restrictions, as well as any times that the coupons are not valid during the day. You will be able to find any restrictions on each of the bowling location pages.

---
Don't miss a thing!
Sign up for the RSG e-newsletter!
Follow RSG on Facebook and Instagram!
*SEE FULL GWINNETT EVENT CALENDAR HERE *