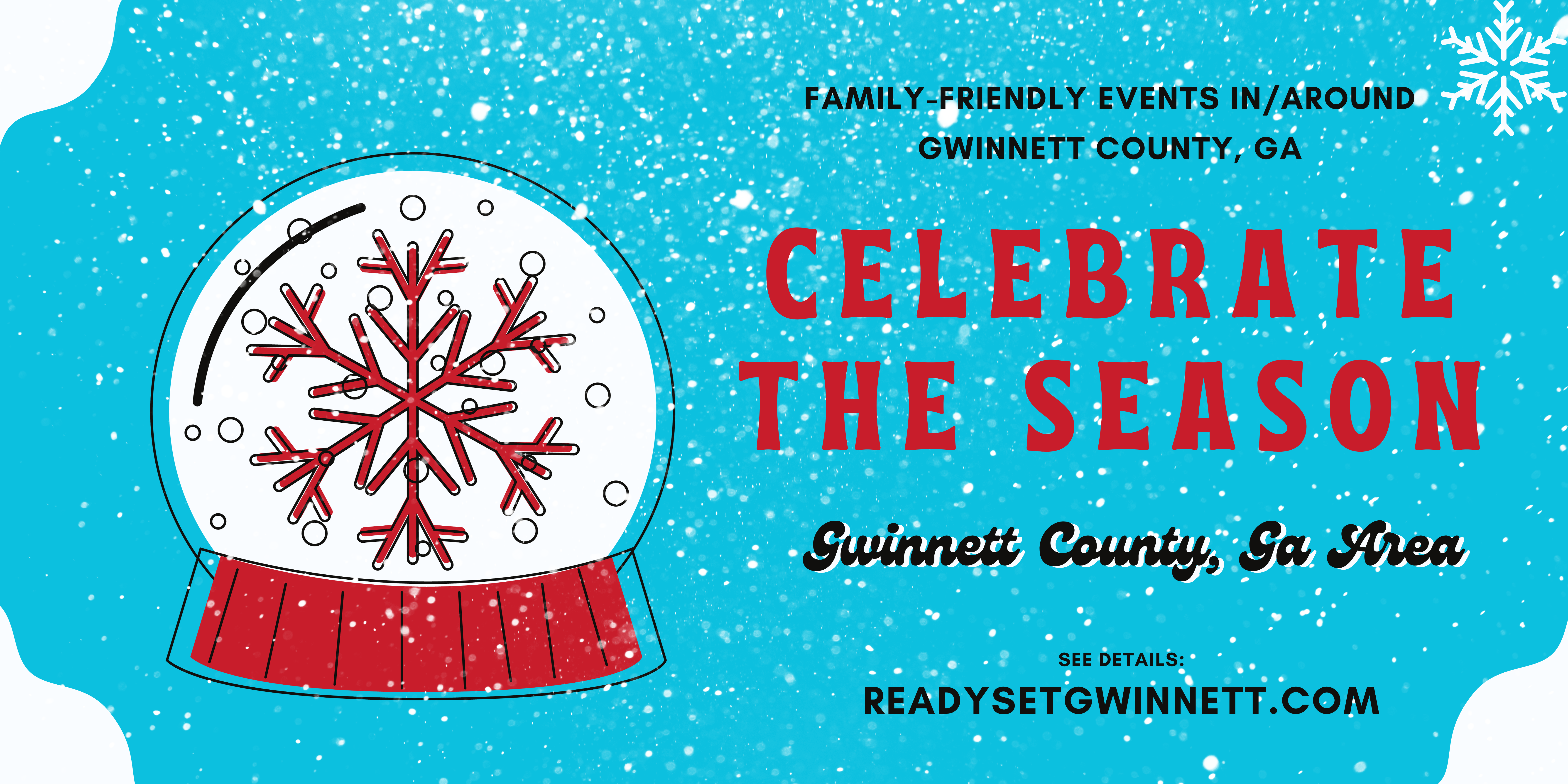 Holiday Events in the Gwinnett County Area
Tree Lightings, Santa Visits, Outdoor Movie, Local Markets, and more!
*Free to Attend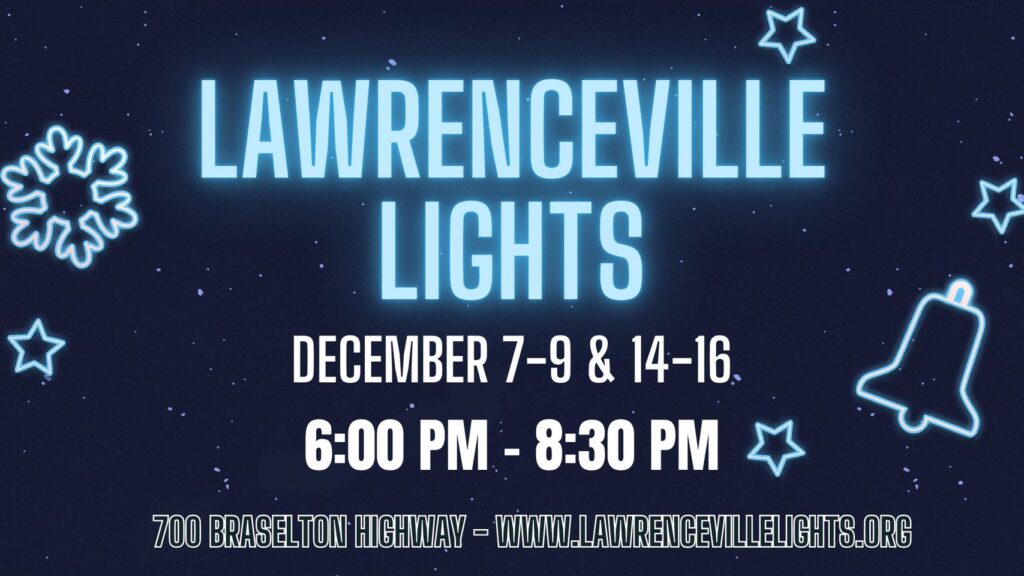 December 7-9 & 14-16 from 6:00 to 8:30 PM.

"The BEST FREE Drive-Thru Christmas Light Display is back!!!
Lawrenceville Lights is returning the the LVfirst Campground (700 Braselton Hwy, Lawrenceville, GA) December 7-9 & 14-16 from 6:00 to 8:30 PM.
Make plans to stop by on one of our open nights this year!"
---
Q: How much does it cost?
A: Lawrenceville Lights is FREE. Come by as many times as you want!
Q: Are you able to walk the display?
A: Unfortunately, Lawrenceville Lights is a drive-thru experience only. You are more than welcome to drive
through multiple times per evening or even over the course of the weekend!
---
When:
December 7-9 (6:00pm-8:30pm)
December 14-16
Where: LVfirst Campground, 700 Braselton Hwy, Lawrenceville, GA 30043-4509, United States
Link
1) ***
Please check/follow their Facebook page for schedule updates
& events

2) "Donations for the display are always appreciated but never expected. There will be a donation box at the end of the driveway. We have also set up cash app and venmo as well. Here are the QR codes for those. Santa pictures are always free."
Where
:
371 Amberwood Drive, Lawrenceville, GA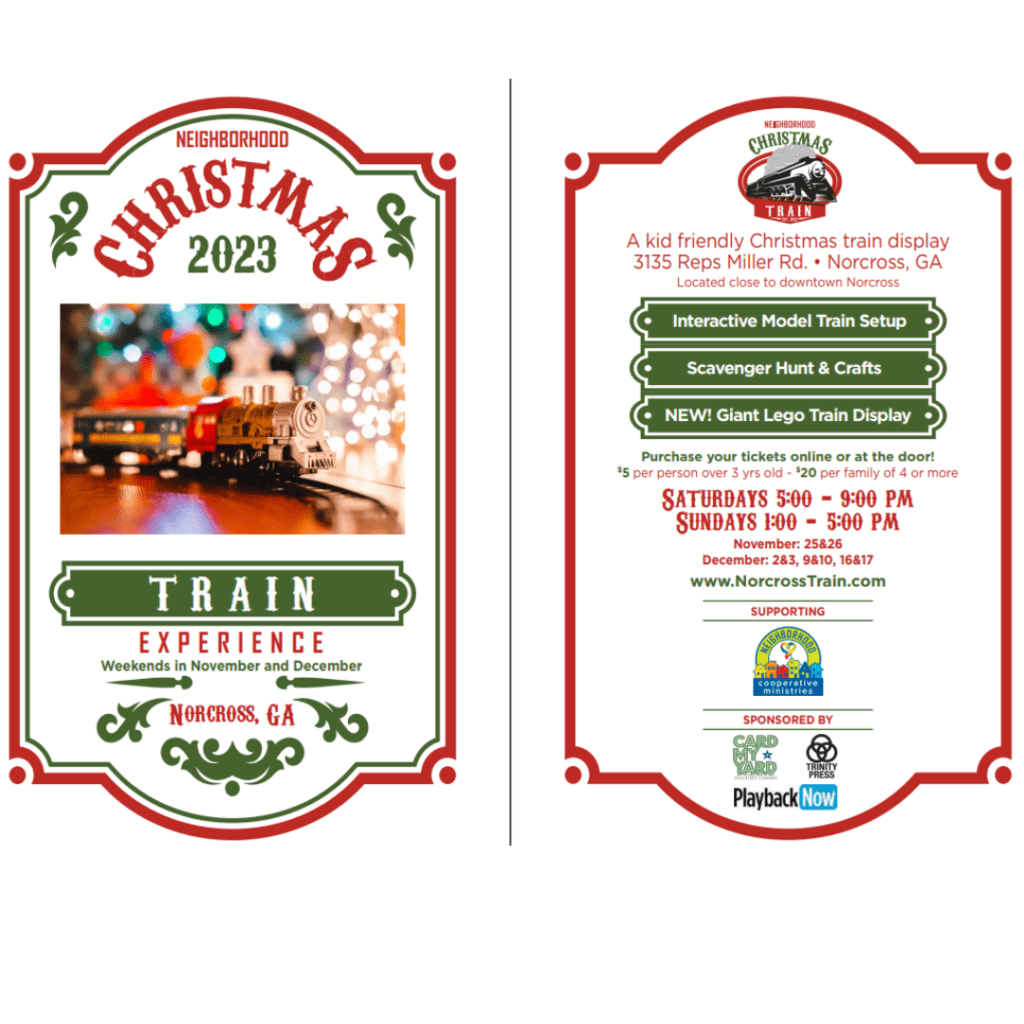 A kid friendly model train experience. 3 Weekends in December.
"Experience the beauty of one of Atlanta's largest model Christmas Train displays and help your neighbors at the same time.
Our Village includes: over 300 homes, shops, churches, along with mountain-top chalets,
diners, Home Depot, and an amusement park.
Our Neighborhood is a great place to live with good people.
Our six running Lionel Trains keep a tight schedule and add excitement to our village. Best of all, kids can experience running their own train at our Lionel Christmas Train Station. At the Station, they can choose from four different train lines including The Polar Express, Hogwarts, Mickey Mouse or Frozen.  Best of all…These Lionel Ready-to-run sets will be ready-to-take home at our Station gift shop."
$5 per person over 3 yrs old
$20 per family of 4+
❤️ Neighborhood Christmas Train Experience Proceeds Support Neighborhood Cooperative Ministries, Helping Local Low-Income and Homeless Families.
December 2 (5:00pm-9:00pm)
December 3 (1:00pm-5:00pm)
December 9 (5:00pm-9:00pm)
December 10 (1:00pm-5:00pm)
December 16 (5:00pm-9:00pm)
December 17 (1:00pm-5:00pm)
Where: 3135 Reps Miller Rd, Norcross, GA 30071
Event Link/Tickets
🎀

Holiday Events: Tree & Menorah Lightings, Santa Sightings, Parades and Festivals
🎀 (Sun Dec 3): Kid's Christmas Arts & Crafts Day @ StillFire Brewing in Sugar Hill*  – See More
🎄(Sat Dec 9):  Lilburn Christmas Tree Lighting* {SANTA} – See More (NEW DATE)
🎅 (Sat Dec 9): Trinity Stables Pony/Horse Patch Grand Opening in Lawrenceville {SANTA} – See More
🎅 (Sat Dec 9): Open House & Bake Sale at Historic Wynne-Russell House in Lilburn*  {SANTA} – See More
🎅 (Sat Dec 9): Holiday Celebration in Sugar Hill  {SANTA} – See More
🎅 (Sat Dec 16): Cookies & Cocoa with Santa Duluth {SANTA} – See More
🎅 (Until Dec 24): Register for a Time: Get a Free Santa Picture at Bass Pro Shops* {SANTA} See More
🎭 (Sat Dec 16):  Puppet Playdate with the Center for Puppetry Arts (Theme: Celebrations)  Online See More
🎀 (Dec 2-3 & 8-10) – Deck the Hollow Holiday Market @ Bear Hollow Zoo in Athens*  See More
🎀 (Sun Dec 3) -Slow Pour Sunday Market in  Lawrenceville*  See More
🎀 (Sun Dec 3) -Welcome Winter Art Market in Buford*  See More
🎀 (Sun Dec 3) -Kid's Christmas Arts & Crafts Day @ StillFire Brewing in Sugar Hill*  See More
🎀 (Sat Dec 9) – Art of Community Market & Holiday Studio Sale at The Hudgens in Duluth*  See More
🎀 (Sat Dec 9): Open House & Bake Sale at Historic Wynne-Russell House in Lilburn*  {SANTA} – See More
🎀 (Sat Dec 9): Holiday Celebration in Sugar Hill  {SANTA} – See More
🎀 (Sun Dec 10) – Holiday Kidpreneur Extravaganza in Snellville*  See More
🐧🐧 **This list will be updated daily – Check Back for Holiday Events 🐧🐧
See MORE Gwinnett County Area Events Here: