Nightrain with special guest Pandora's Box – FREE (Buford)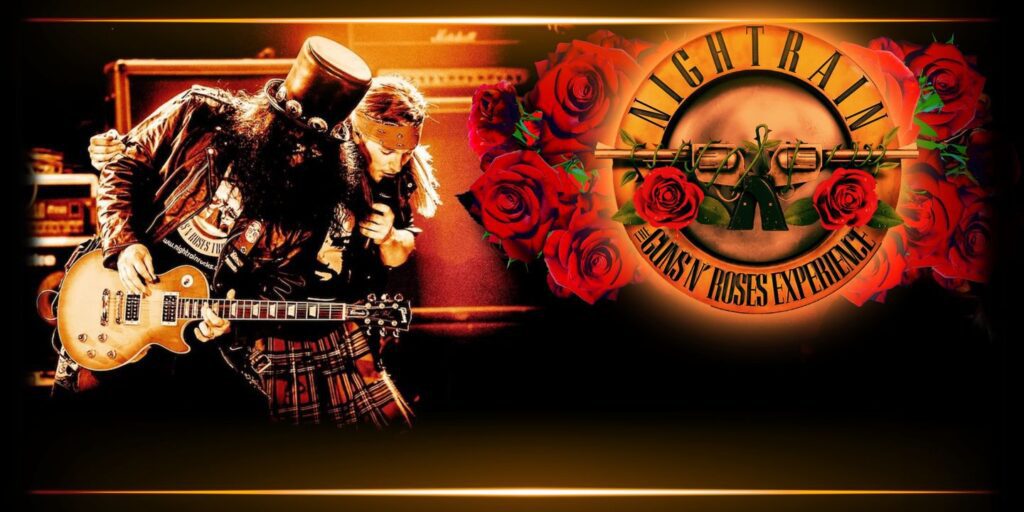 "Join us on the concert lawn Saturday, September 30th at 6PM for Nightrain with special guest Pandora's Box!! Free Admission! Gates at 5PM, Concert begins at 6PM. No outside food & beverage allowed.
NIGHTRAIN'S Tribute show to Guns n Roses has been taking the US by storm for years running. Performances have ranged from The House Of Blues, MTVs Famous Club LaVela, The FC Dallas Stadium, to this years Carolina Rebellion, sharing the bill with Alice In Chains, Soundgarden, & Buckcherry to name a few. Nightrain continues to make their stamp in today's ever growing Tribute Market.
The accurate vocals and hypnotic swaying of Axl both capture the audience's attention from the first beat down to the last note. Slash's classic riffs and perfect showmanship (and let's not forget the top hat) will make everyone do a double take. However, Axl and Slash are only part of the show. The tight rhythm of Izzy, Duff, and Steven are the glue that keeps this true concert tribute together. Izzy's laid back style…a 6' blonde Duff…the energy of Steven "popcorn" Adler complete this visually and musically accurate line-up. This band's vibrant stage presence and accuracy to everything about Guns N' Roses leaves the entire crowd pleased.
Joining Nightrain will be special guest Pandora's Box!
What really stands out about this amazing tribute to Aerosmith, is that it sounds so authentic and has such a powerful energy onstage.
It's no wonder though, when you dig a little deeper into this brotherhood of musicians. All of these guys, (while spending time in other bands) have known each and played together for many years.
Guitarist Steve Taylor and lead vocalist Nathan Utz started working together back in 1990 with Sony Records artist, The Blonz, and toured with bands such as Dokken, Poison and Mother's Finest, just to name a few. The Blonz released the single "Last Call for Alcohol" that made it onto the Billboard charts! Nathan and Steve have been working together ever since and their long career together makes for the same intense and entertaining chemistry onstage that Steven Tyler and Joe Perry share! That chemistry along with Nathan's uncanny resemblance to Steven Tyler's voice and appearance, will transport you to the front of the stage at an Aerosmith show!!!"
When: Saturday, September 30, 2023 (6pm)
Location: Buford Community Center, Town Park & Theatre, 2200 Buford Hwy, Buford, GA
Free Event Link
** RETURN TO: GWINNETT EVENT CALENDAR **
---
Don't miss a thing!
Sign up for the RSG e-newsletter!
Follow RSG on Facebook and Instagram!