Register to Build a Putting Green for FREE! (June 3)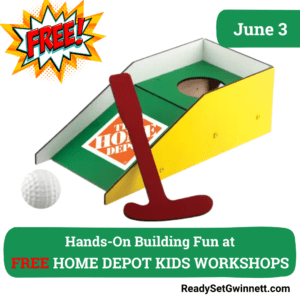 Easy & Fun Father's Day Gift for Dad or Grandad!

Saturday, June 3 (9am – Noon): "Join in the first Saturday of each month between 9 am – 12 pm for free in-person Kids Workshops.
Each kit-pack includes a pre-cut wooden kit, a Kids Workshop apron and a certificate of completion with an apron pin. All ages are welcome (recommended for 5+). You will have access to a hammer to complete the project.
REGISTER online

tips:
> if you have any trouble viewing the Register Button – got to homedepot.com, click on "Store Finder" top/middle, select your location and scroll down to access "In-Store Workshops"
> if you can't make it to the in-store event, you can purchase this (& similar) Kids Workshop Projects in-store & online.

---
Don't miss a thing!
Sign up for the RSG e-newsletter!
Follow RSG on Facebook and Instagram!
*SEE FULL GWINNETT EVENT CALENDAR HERE *