6th Annual Olifer Math Competition for Grades 1-10 at GGC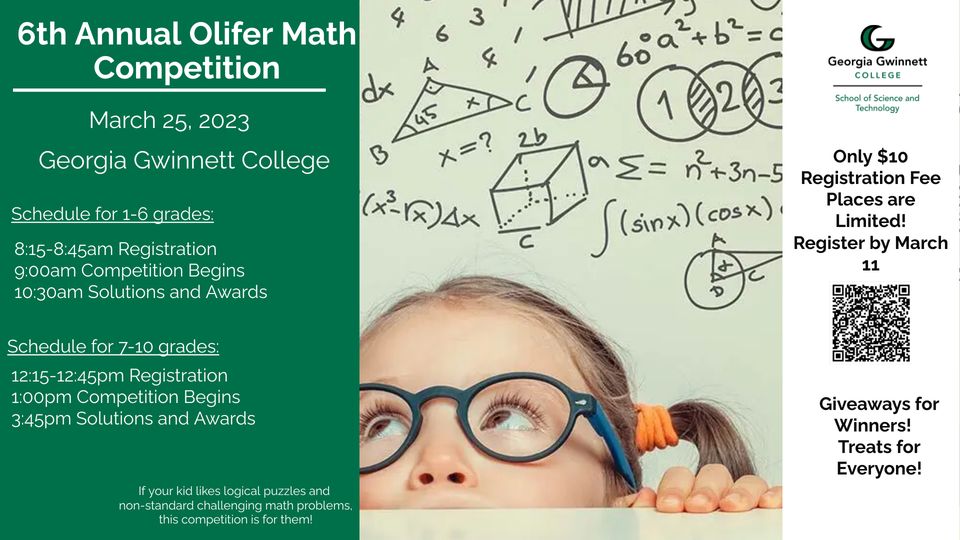 March 25
@
8:15 am
–
4:30 pm
"The Olifer Math competition is next month! Hosted every year by GGC Math Department for students in grades 1 to 10. This year, it will take place on March 25th in two sessions: 8am-11am and 12pm-4pm.
Georgia Gwinnett College is pleased to announce that the 6th Annual Olifer Math Competition for children in grades 1-10 to be held at GGC campus on Saturday, March 25 2023. This math competition is a celebration of our future science, technology, engineering and mathematics (STEM) majors. Children are natural problem solvers and like to think outside of the box. The problems used in this contest are designed to inspire them and this kind of thinking, and they are different from what they usually experience at school. Solving such problems and meeting other children in a collegiate environment should make this competition an unforgettable event.
The registration is $10 per participant and seats are limited for each grade. Special math giveaways will be given for the first three places for each grade, and all participants will receive recognition for their participation. Here is a link for registration.
In the past we invited students in grades 1-8, this year we open the competition to the grades 9-10. Attached is a flyer with more information. Feel free to spread the news of the competition and send email to to (<[email protected]>) with any questions. We look forward to seeing you all at the competition in March!"
Don't miss a thing!
Sign up for the RSG e-newsletter!
Follow RSG on Facebook and Instagram!
* SEE FULL GWINNETT EVENT CALENDAR HERE *