March Braselton Farmers Market (moved INSIDE)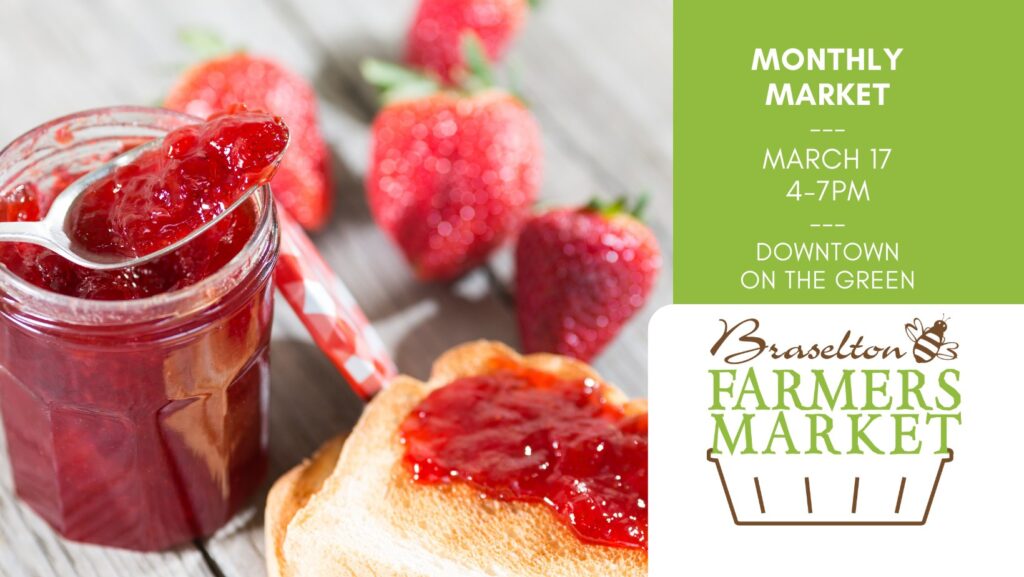 March 17
@
4:00 pm
–
7:00 pm
Latest Update: Stay dry at our St. Patrick's Day Farmers Market! The March 17 farmers market will move INDOORS to the Braselton Civic Center due to rain. It's just across the street and right next to the parking deck. See you there!
NEW Location: Braselton Civic Center, 27 E Lake Dr, Braselton, GA 30517
—————————————————–
Update: Come see real Irish dancing during the Paddy's Day farmers market!
Carpenter Academy of Irish Dance will perform 5-5:30 p.m. on the Braselton Town Green. Visit www.carpenteririshdance.com to register for a FREE CLASS at their Buford location.

—————————————
"Announcing a few exciting changes for the 2023 market!

March and April monthly markets hours will happen at the regular, 4pm-7pm time.


The weekly market season has DOUBLED. Weekly Markets will start May 5th and run every Friday through September, 4-7pm.


The market is moving to the Town Green. While it's only a few steps from the previous location on Davis Street, the green offers more space and visibility for our fabulous food vendors.


With more space, we can plan more fun things for you to do on Fridays! For example, our summer market season will kick off May 5 with Cinco de Mayo food and music, followed by a themed movie, Coco, at night.

Vendor Details & other vendor opportunities
—–
Local farmers, bakers and makers set up their tents on and around the Town Green in Downtown Braselton, 9924 Davis Street.
PARKING is free in the Braselton Parking Deck across the street from the market. Park on LEVEL 2, and you'll walk right across Davis Street to the town green.
—–
We hope to see you there!" LINK
SEE MORE ST. PATRICK'S WEEKEND EVENTS
Don't miss a thing!
Sign up for the RSG e-newsletter! Follow RSG on Facebook and Instagram!*
SEE FULL GWINNETT EVENT CALENDAR HERE *