First Gwinnett Plant Sale and Swap of 2023!!! (CANCELLED DUE TO WEATHER)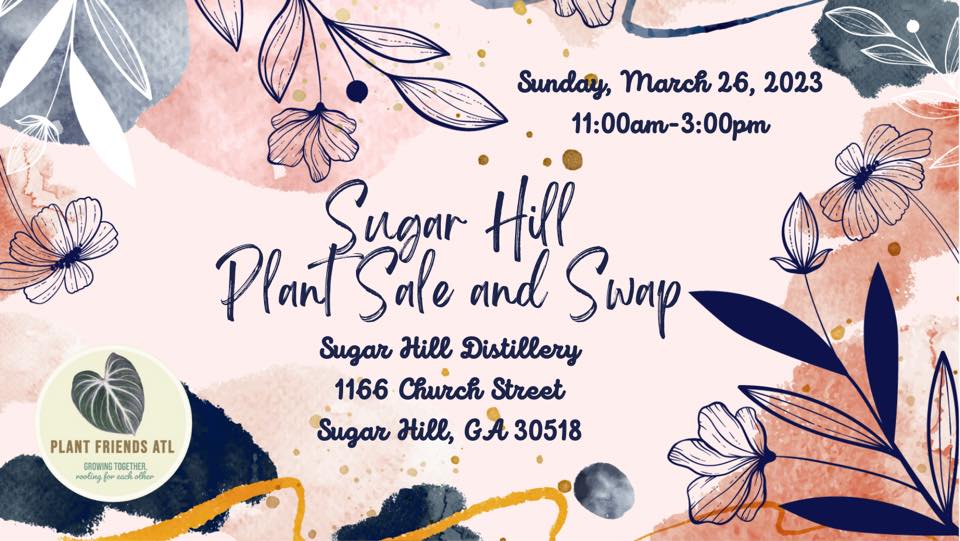 March 26
@
11:00 am
–
3:00 pm
(CANCELLED DUE TO WEATHER)
"I'm so excited to announce the FIRST Gwinnett Plant Swap of 2023!!
I am thrilled to announce that we are continuing our partnership with Sugar Hill Distillery for another awesome Sale and Swap!!
Now that we are including sales, we are getting a bit more structured. Bring cuttings (rooted and unrooted), plants, pots, seeds, mediums, anything you want to sell, swap or give away! See Erica when you arrive for a set up spot.
If you would like to participate as a vendor please fill out this form
Please be sure your plants are labeled and priced appropriately if you plan to sell.
How you swap is up to you. There will be a table for "swap" plants where you can put what you have and everyone can browse what's available. Be considerate of others and don't take more than you brought until the end.
If you'd rather swap plant for plant that's fine too! Please bring a small table or blanket to keep your belongings and feel free to trade one on one with others.
This is a great event for beginners!!! There will be a "free to a good home" table! There will be people who are new to plants that may not have much to swap! Let's welcome them!! If you have something to give away for a newbie just starting their plant journey please bring it! This table will be free for the taking and not require a swap of any kind.
Be sure to support our Host @Sugar Hill Distillery while you're there."
Location: Sugar Hill Distillery, 1166 Church St, Sugar Hill, GA (470)258-7735
EVENT LINK
Don't miss a thing!
Sign up for the RSG e-newsletter!
Follow RSG on Facebook and Instagram!
* SEE FULL GWINNETT EVENT CALENDAR HERE *